Part two of my trip to Golden Bay is about climbing, fishing, eating and chilling out with chilli beer.
Wainui Falls
A famous waterfall which apparently isn't a big deal, but it's the only waterfall in the area and that makes it famous. It's quite far from Takaka, but the drive along the coast is really enjoyable and you get to see nice scenery (Tata Beach, Wainui Bay). The walk to the falls is an easy one with a rope bridge crossing the river and giving opportunity to some interesting pictures. The waterfall itself is a nice enough spot to make the walk worthwhile, but really nothing special... unless you make it special.
Click for more.
Adrenaline at Wainui Falls
We spent almost an hour messing around, climbing over slippery rocks and trying to take the coolest pictures. Unfortunately, after boldly crossing the river over the aforementioned rocks, we discovered that getting back was a totally different matter. Dominik solved the issue with a risky jump off a 2-metre boulder; my heart missed a few beats when he disappeared from my vision for several minutes and I had no way of knowing whether he ended up in the water or splattered on the rocks...
I made it even more adventurous for myself. I had two options how to get back: a) follow Dominik's route, or b) retrace my own steps over the rocks, which was a lot harder than crossing them the first time. I didn't like either option, so I chose c) and took the long way around. I started climbing the steep hill, hoping to find a good spot to descend again and get back onto the path somewhere near the bridge. The problem was that I had no way of seeing through the bush, hence not knowing if I had yet reached the bridge or should keep climbing. At the same time, the only way forward was the way up and I was quickly dozens of metres above the river, crawling through thick bushes on a nearly vertical wall, with nothing to hold on to than branches and grass. Luckily, after half an hour I finally spotted the bridge, or, rather, the blond woman crossing it (thank you oh blond beacon of my dreams), and somehow made my way down. Safe and sound, I got back to the car, where the others were already waiting for me, and we took off for the next stop on our Golden Bay tour - Anatoki Salmon Farm.
Welcome to Anatoki Salmon Farm.
Anatoki Salmon - catch your own
After all the adrenaline at Wainui Falls I was genuinely starving (we also didn't have lunch), so it was just as well that our next stop was
Anatoki Salmon
, a salmon farm where you can fish for free and only pay for what you catch. They've worked out a genius system to make money: people can fish for free (they even give you the gear and gut/steak the salmon for you) and only pay for what they actually catch. The competitive rate of 19 dollars per kilo is tempting (supermarkets charge about 25), but it ends up costing you heaps of money. The catch (no pun intended) is that unlike a fish fillet you buy according to price and weight, at Anatoki you gotta take the whole fish (you can't catch half a salmon). Plus, if you're eager enough, you don't have to stop after the first fish (and believe me, even an absolute fishing novice like myself can be successful when the lake is overflowing with tame salmons). Anyway, I love smoked salmon.
Farewell Spit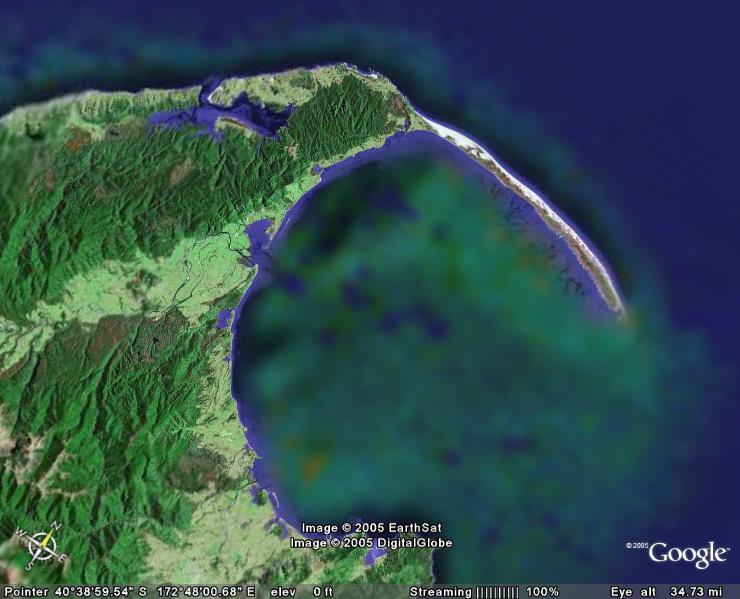 Farewell Kiwi-Spit. Click for more photos.
It's not a spit good bye, it's the name of a unique natural formation in the north-westernmost part of the South Island. Farewell Spit is a 25km stretch of shallow sandy land with some bushes and lots of bird life. As the sea brings more detritus, it keeps growing, so the lighthouse that was built over a hundred years ago is now about six kilometres from the actual tip.
The funniest thing about Farewell Spit and the adjacent piece of mainland is that if seen on a satellite photo, they look exactly like a kiwi bird.
Speaking about birds, nowadays only the first four kilometres of the spit are freely accessible, while the rest has become a marine reserve with no outsiders allowed. The only way to get in is with Eco Tours, a company organising commercial trips with a 4x4 mini-bus. I'm not keen enough on birds (except fried chicken) to pay $125 for it. I went horse riding to Cape Farewell for $55 instead.
Click for the full photo album of Wharakiri Beach.
Wharakiri Beach
A stone's throw from the Spit lies the most beautiful beach I've ever seen. There probably are nicer ones, but I haven't been on any yet. It's a good hour's walk through amazingly green farmland (looks like Cornwall) to get to the beach's farthest end, and then, as you make you way through the bushes, you're suddenly exposed to this stunning view that I have no words for, and therefore will leave it all to the pictures.
Mussel Inn
Our last stop that day was for a beer. It turned out to be for many beers. There's this place between Colingwood and Takaka, it's called the
Mussel Inn
, and it's a cosy wooden shack where they serve mussel specialities and brew their own beer. Several beers, actually, and they're all really, really good. The best beer I've tasted in New Zealand so far. Most people think that NZ beer is rubbish, and they're generally right, but apart from the nationwide big tasteless brands there are countless little breweries with their own style, quite inventive names and usually a good taste. The Mussel Inn, for instance, had this on the menu when we visited:
Captain Cooker - a lager flavoured with the local manuka tree.
Freckled Frog Feijoa Cider - quite literally, a cider made 100% of feijoa, again a typical New Zealand fruit, and a typical New Zealand taste.
Monkey Puzzle - a 10% beer, we didn't try that.
Heatrash Chilli - my absolute favourite, a standard 4% lager with a chilli added to the bottle and left to mature. It's an absolute treat to sip a good lager with a strong (but not too hot) chilli aftertaste. If you eat the chilli at the end, you definitely need another beer.
Looking at this picture
makes my mouth water. Again.
There were several other beers with inventive names (
All Black
- a limited Rugby Cup dark beer,
Bitter Ass
,
Strong Ox
, just to name a few), but after trying four or five different types, I stuck with the chilli and the Dark Horse, and then my credit card balance ran out and that was it.
It was really nice to sip beer in such a warm and welcoming environment, especially later when a Kiwi band called
Beyondsemble
started their concert and the little pub was filled with totally un-kiwi music (they play all kinds of folklore stuff, such as gipsy music, čardáš, French things, etc.).
And with this our tour of the Golden Bay was over. I got a ride back to Nelson the next day, hang around the Palace Hostel for a few days, got totally drunk and the pirate party (everybody was dressed as a pirate, I went as a Software Pirate. With a hook), and then I bought the bike and set off to new adventures. And that's a whole new chapter to blog about! Next time.